As we head into another open water fishing season up here in the Ice Belt, our thoughts begin drifting to visions of warmer weather and shedding clothes.  Now is the perfect time to contemplate updating your current inventory of tackle.  Including, rods and reels.  Hopefully, without disposing too much of our shrinking disposable income.  
Tons of directions to head to try your new gear out.  Might be your desire to master some new tactics this season.  With the advent of live, forward-looking sonar, many techniques that have proven successful in a more shotgun approach in the past, are now downright deadly as we can deliver our baits with a sniper's accuracy.  One cast, one bite in this context.  Get yourself in on the game slinging a slug of options at individual fish and watch them react.  In real time.  Maybe in the genre of jigging raps, lipless crankbaits, blade baits or for a totally realistic-and not just reaction based-presentation, swimbaits are always a good and becoming an overlooked choice.  Think of surgical strikes while operating with surgical grade instruments.  
Right tools for the job:  
I see far too many anglers that just use any old rod for a variety of techniques.  A hammer, crescent wrench and vice grips may be versatile tools and do have the ability to perform many tasks.  Clumsily.  At best.  As technology, the plethora of information available and our fishing techniques advance, so should our selection of rods designed for specific species and techniques.  It is safe to say that a professional mechanic's tool chest is much larger and sophisticated than in years past.  If you are a passionate angler looking for more reliably successful outings, your tools of choice must become more refined. This also gives you a very valid reasoning for buying more toys.  Increased catches and obviously more fun, will no doubt ensue.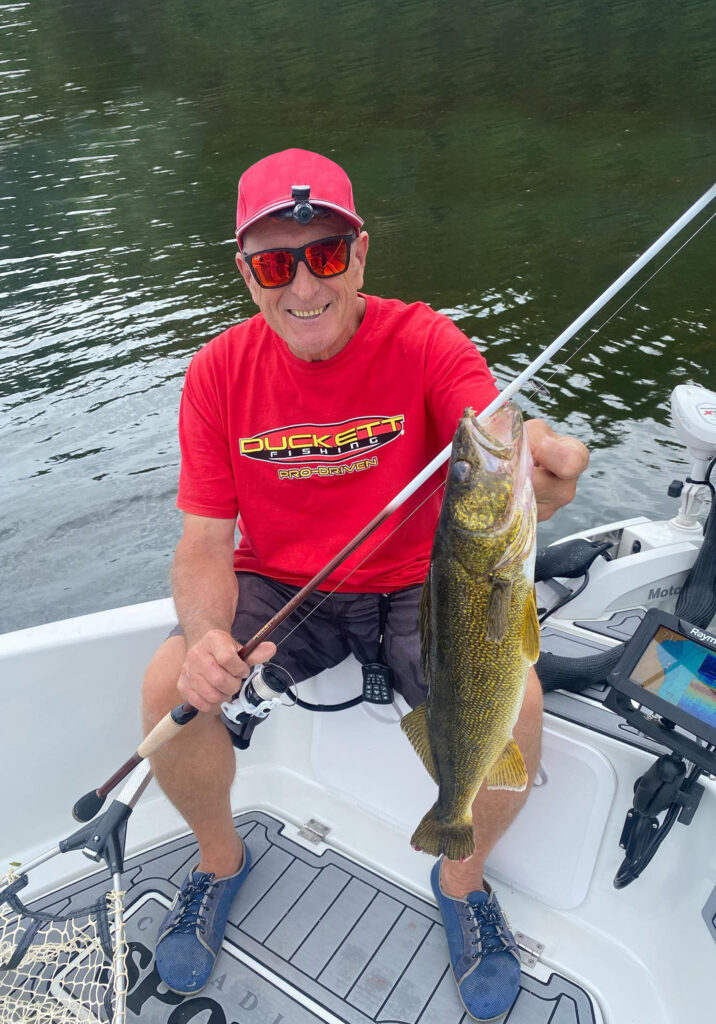 With a little research and effort, we can keep the updating expenditures within reason.  Inflation has had an impact everywhere. Particularly, in the outdoor industry.  Want some real sticker shock?  Just check out the prices of new boats.  Not hard to go over the 100K mark.  Ridiculous, yes.  Has testosterone driven you, me, and countless others to pay the price, you bet!  That being said-the good news is-there are some areas where you can obtain top of the line equipment and not break the bank.  
Quality can be cost effective:
Where was it ever written that to possess a selection of high-quality, species-specific rods; you need to part with piss the wife off kind of money.  Are the rods that can push well beyond the $300 apiece mark nice?  Yes, they are.  Are they worth that kind of coin?  In many cases, probably not.  This is one area where quality is not always quantitative with dollars.  Another consideration to the ultra-high dollar rods is that it would be almost sinful not to outfit them with a new reel for a minimum of half of the rod price.  By the time you have the rod and reel spooled up and ready to rock, you can easily have $500 plus invested.  
I will now attempt to pull you out of the electric chair of sticker shock.  Quality can indeed be had for far less.  You will just have to do a little research to find what you are needing-and darn sure wanting.  I would like to assist you in narrowing the search and enlighten you on a comprehensive selection that was purpose built for walleyes and the numerous presentations that we are now employing for consistent catches.
In full disclosure, I have had a hand in designing a line of walleye rods to help fill this niche and scratch a nagging itch for budget, yet quality conscious anglers. With a ton of experience and even more importantly, hard earned respect in the ultra-competitive world of professional bass fishing.  It was only logical and inevitable that with some well-placed prodding, the folks at Duckett Fishing have produced and brought to market, a completely new offering of premium walleye rods.  Not easy, with all the Covid complications, mind you.  But, now after field testing the prototypes, the final line up is now available to the public.  
Do yourself a favor and head on over to www.duckettfishing.com to check it out for yourself.  There are 5 spinning rods to choose from that possess a range of actions that will perform admirably in about any application you can imagine.  Have a pulling personality?  We have you covered there as well with 7'10" and 8'6" telescoping trolling rods with just the right combination of power, sensitivity and forgiveness to handle everything from planer boards, diving devices, snap weights, leadcore, flat lines, etc.  If you can conceive it, these rods will achieve it.  With, plenty of smooth loading and releasing flex in the upper third to handle big, surging fish, on no stretch lines.  You will immediately appreciate the 10.5 inch handle.  Every single trolling rod now available have handles that are far too long and offer only issues and not advantages.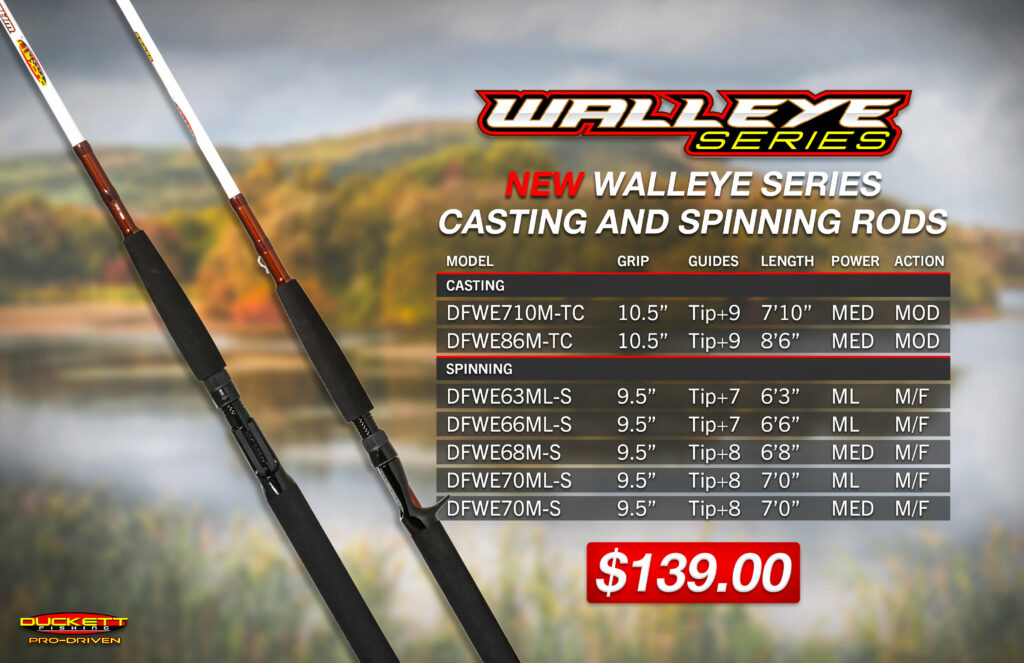 The research and testing efforts that went into producing the Walleye Series has made it simple for walleye fisherman to forgo spending countless hours handling, pricing and then hoping what they plunked down their hard-earned dollars will work well.  I prefer plug and play purchases versus pay and pray scenarios.  
Your next choice is to couple the rod with a reel that not only matches the action, but also has a silky-smooth drag and infinite anti-reverse.  The Paradigm series of spinning reels pair perfectly.  And reasonably.  With the rods priced at $139 and, reels ranging from $99 to $199, you can have a dandy combo in your hands for under $250.  And even get Free Shipping thrown in by using the promo code FOCUS when checking out on the www.ducketfishing.com site.  When the delivery truck arrives, you will have a combo that is as good as any on the market and comes in at a price point well below what just one of the previously mentioned rods would go for.  Naked and with no reel…
There are a few other suitable offerings from a couple of well-known manufacturers that can fill a presentation niche – here and there for reasonable rates.  But most are not branded as such and require a lot of in-store handling to figure out what may or may not work best for you.  Furthermore, you will be hard pressed to find trolling rods with the same performance characteristics, at any price point.  
You can now apply your savings for acquiring more baits.  Only seems right as it is kind of like found money and just as well beef up your presentation options a bit.  Check out the selection of swimbaits while looking the rods over and you may just find yourself a new favorite to throw, manipulate and then stick a good one…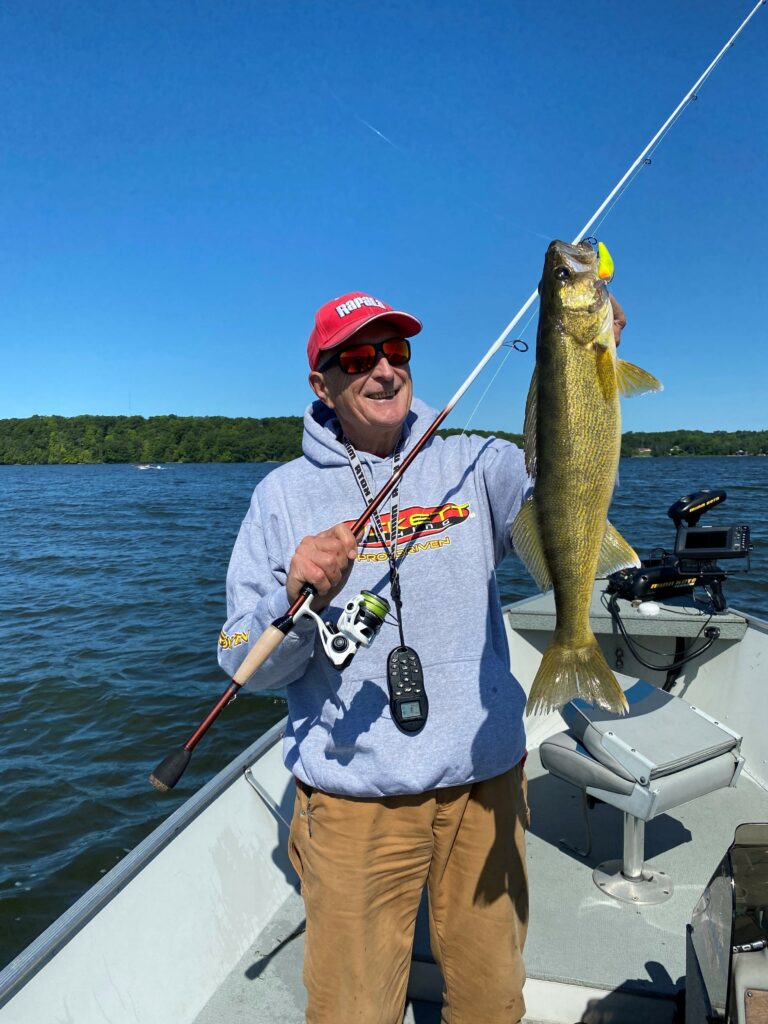 Dennis Foster wears many hats in the outdoor industry.
To learn more, check out www.focusedoutdoorpromotions.com –  www.dakotapheasantguide.com – www.eyetimeadventures.com and the associated FB pages.